How does a Via Ferrata set work?
Via Ferrata Set (Absorber)
Nowadays almost all sets are in Y-shape and using a band that has been stitched together many times. In the event of a fall, the stitching will slowly tear loose, breaking the fall.
Shock absorption system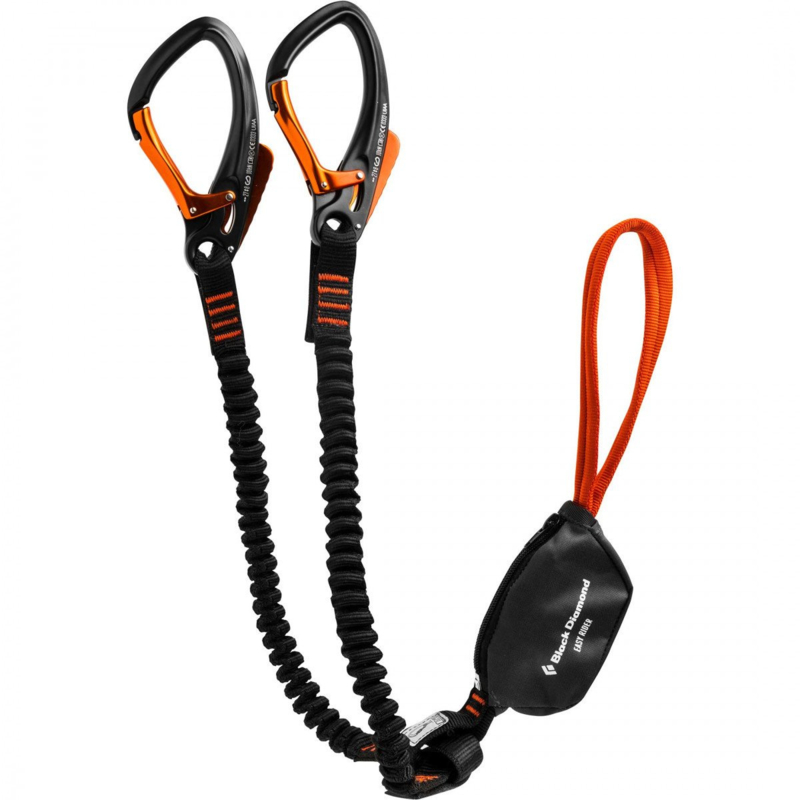 Black Diamond Easy Rider Via Ferrata set
Via Ferrata set
Due to the possibly high fall factor, a shock absorption system is mandatory on a via ferrata, so that the impact of the impact is reduced in the event of a fall. If a system without a shock absorber is used to absorb a long fall, either the system or the wearer's back will break.
A shock absorption system is traditionally made by braiding a rope in a certain way so that it only slips under heavy load. The force developed by the fall is lost in the friction. In another system, a strap sling is stitched in such a way that it will tear under load. The force developed by the fall is lost in tearing through the stitching (not the webbing). A via ferrata set is attached to the belt using an anchor stitch or Delta maillon.
A via ferrata set only holds one fall.
Technology
Each via ferrata set, regardless of its shape, has two carabiners. However, its use varies:
Y-shape: The climber attaches to the cable with two carabiners. When she/he hits a hook that secures the cable to the rock, she/he first attaches one carabiner above the anchor point before transferring his second to re-hook with two carabiners.
V-shape: A climber attaches herself to the cable with one carabiner. Arriving at a hook, she will first attach her second carabiner above the hook before releasing the lower one. Important: the free carabiner must never be attached.
CanyonZone Knowledge base Via Ferrata / Klettersteig: Go Back.