Information about rope: choice and maintenance
With caving and canyoning, the use of the right ropes is an important (attention) point when choosing your equipment.
Here CanyonZone has included background information to make a good choice
Types of ropes
Synthetic ropes are used when working at height, including speleology and canyoning.
Natural fiber ropes have a lower breaking strength and may rot over time.
There are three types of ropes:
Dynamic
Dynamic rope can stretch considerably, absorbing the shock of a fall. This type of rope is used in climbing, but hardly in industry. CE EN 892 rated
Static
Static rope has very little stretch. Due to this property it is suitable for rappelling, stirrup rising, short zip line for e.g. rescue work, hoisting and special circumstances such as rescue work from a helicopter. Even with frequent use, the rope remains flexible and in good shape. The elasticity of static rope is 2%. With a line of 50m, that still means a 1m stretch! For canyoning in certain areas a must to use static rope. Not CE EN rated ropes
Semi-static
This type of rope is often incorrectly called static. It is widely used when working at height, such as rope access, ascent, descent and as a safety line with fall protection. The small elongation in these ropes is sufficient to sufficiently absorb a drop up to a fall factor of 0.3. They are not suitable for on sight climbing, but can be used for toprope climbing because the fall factor is small there. They are also used in caving and canyoning. CE EN 1891A / B rated (depending on diameter of rope)

Types of semi-static ropes
There are two types of semi-static ropes for working at height:

Type A.
This is the strongest type. 10mm or thicker in diameter. 100kg is used for testing. For certain devices, a manufacturer can indicate that only type A rope may be used. Examples include fall arresters such as the Petzl ASAP and the Petzl ID'S.

Type B
This type of rope is smaller as 10mm diameter, cheaper, less strong and will wear faster than type A. It is tested with a weight of 80kg.

Important
The range of most used diameters for semi-static ropes is 10mm - 12.5mm. The use of a small diameter can make a device run smoother. However, it requires more skills. Often a device can handle rope with different diameters. However, tests have shown that devices can perform differently with different diameters with regard to slipping. It is therefore important that the parts of an equipment are properly coordinated.
You can of course also contact us for advice.

Standards semi-static ropes
Ropes must meet strict European standards. The load capacity is tested both dynamically and statically. The following standards apply to semi-static ropes, where type A ropes are tested with 100 kg and type B ropes with 80 kg:

A weight hanging on the rope that falls at a fall factor of 0.3 may undergo a force of maximum 6kN during the shock;
The weight should be able to fall five times at fall factor 1 at three-minute intervals without breaking the rope;
The rope must be able to withstand a static load of at least 22kN;
With a 'double eight knot' in the rope, a type A rope should be able to withstand a force of 15kN for three minutes. 12kN applies to a type B rope;
Depending on the diameter, the sheath displacement may be 20mm - 50mm for a type A rope and a maximum of 15mm for a type B rope;
With a test weight up to 150kg, the rope stretch must remain below 5%;
Sufficient knotability (factor K <1.2);
Depending on the diameter, the jacket must be a certain minimum of the total rope mass;
The required rope end markings must be present.
First use semi-static rope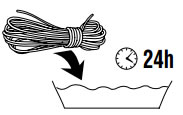 Before the first use, the rope must shrink once. For this it must be immersed in a cold water bath for 24 hours, preferably just on the roll. The connections in the rope become firmer and lubricants used during the production process are removed
Drying the rope is also preferably done on the roll. It shrinks about 5%, so that's 5m for every 100m! This must therefore be taken into account when determining the correct length.
Treatments that can get rope during manufacture
Coating
An impregnated rope so that it absorbs less water and dirt or is extra flexible.
Heat treatment
Edelrid and Mammut apply this technique in their ropes to make them more water resistant and dirt resistant.
Unicore
Rope manufacturer Beal has so-called unicore ropes in which the inner core and the outer layer are glued.
The breaking strength of rope
The breaking strength of a rope gradually decreases. The breaking strength stated on a rope is well below the true breaking strength. As the rope ages, it remains within the norm. A kind of built-in correction. The breaking strength of a rope depends on:
the age of the rope;
maintenance;
diameter;
type of rope;
the weaving construction of the rope;
applied rope techniques such as knots.
The right way to use a climbing rope
Ropes are safety items. This means that you must handle climbing rope carefully and maintain it properly. When using outdoors, it is wise not to lay the rope directly in the sand. Especially when it is a bit damp, this dirt can get stuck in the rope, making it stiff and less safe.
If you are in places where there are sharp edges, it is recommended to use a rope protector. This just protects the part of rope that runs around a tree or over the edge of the rock.
After and / or before use, we recommend that you always check the rope. Look and especially feel if you see or feel an abnormality somewhere. This could indicate a rope break or the beginning of a ripping cloak. Many athletes use a logbook to keep track of the condition of the climbing rope. This will write down whether there has been a fall, what the weather was, etc.
Can you extend the lifespan of a climbing rope?
Of course you can not always prevent a rope from getting dirty or wet. That is why it is wise that when you are finished with climbing rope, you clean it with a brush. You slide this around the rope and remove the coarsest dirt. For example the Rope Brush.
Loosely shoot the rope and put it in a clean bag. If it is wet, you can always dry it at home in a dark place. If the rope is very dirty, we recommend putting it in the washing machine. Regular washing with alkali-free detergents (NO SOAP) can prevent rapid wear. In addition, simply rinsing with lukewarm water also works well, but it is still wise to pay attention to the lime content of the water.
Above-average lime content in the water can lead to lime getting into the jacket, making the rope stiff and less useful.
If you want to extend the life of your rope, we recommend Rope Cleaner. Rope Cleaner has been specially developed to clean ropes and equipment in a way that does not damage the ropes. You can choose to use a hand or machine wash. If you use a machine you can put the rope in a cotton bag, it is smart to tie the rope in a daisy chain as described below.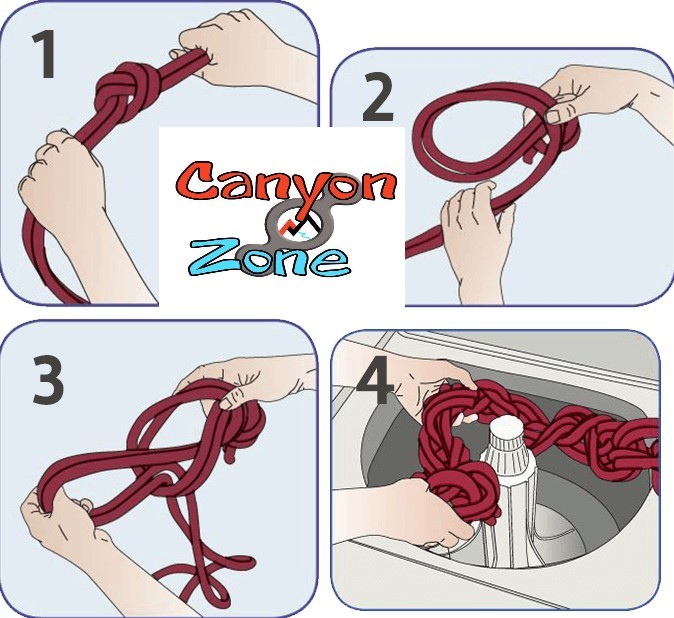 1. Tie the ends of the rope together.
2. You tie the first link as if you were making a half knot.
3. Pull the remaining rope through the loop and make a loop. Repeat until the end of the rope.
4. Put the rope in the machine with the Rope Cleaner and wash it at 30 degrees.


Rope parts
One of a rope consists of tens of thousands of fibers spun into yarns. These are then woven into threads. Surrounded by a braided jacket that absorbs energy in the event of a fall and protects the core from wear.
1. Core - 2. Jacket - 3. Heat shrink tubing at the end of the rope - 4. Label with information - 5. Binding wire - 6. Rope protection.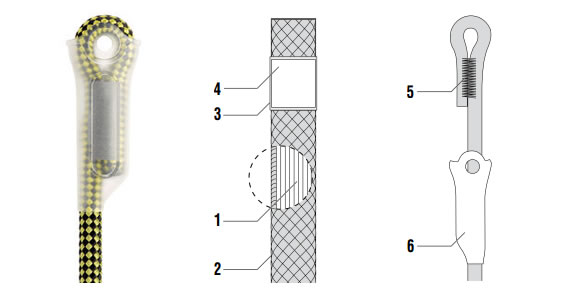 Auxiliary rope (s)
There are different types of auxiliary ropes such as Reepschnur (prusik rope) and webbing / band slings.
Reepschnur are (static) auxiliary ropes. These are used when extending an intermediate fuse, making hoists or as a fuse for rappelling using a prusik button.
Webbing / Band slings are made of flat or tubular band material and are therefore more resistant to sharp rocky edges. They are mainly used for self-insurance, building a stand and as a hoist.
The vast majority of webbing slings are made of nylon (polyamid) or Dyneema. Nylon is wider and is therefore also used for climbing where weight does not play such a big role. Dyneema is used in narrow webbing slings, which are used in mountaineering and caving.
Plastics as a basis for rope manufacture
Polyamide or nylon
A strong type of rope is twisted or braided from polyamide. Polyamide is very elastic, can yield up to 40%, and returns to its old shape after removing the tension.
Nylon was the first synthetic material used for rope making. When wet it loses 5% to 25% of its strength. It is durable and does not float. Nylon bunches have a tension pull of approximately 45 tons. Nylon bunches can be dangerous to break. It gives the same effect as an elastic, but 1000 times as much. The blow that a person can get is usually broken limbs or even, in most cases, fatalities.
Polyester
Polyester has a high breaking strength, is not affected by moisture, but is less strong than polyamide. Polyester stretches much less, so it can be used for non-stretching lines. A polyester rope does not float. Pre-stretched polyester twine is also available.
Polypropylene
Polypropylene is less strong than polyamide or polyester, but is much cheaper to produce. Polypropylene rope floats well. However, it cannot withstand ultraviolet light. Because this material is more flexible, it is mainly used for trim lines on sailing boats.
Polyethylene
Polyethylene is cheap and light, but has a low melting point. It produces a fairly stiff rope type.
Aramid
Aramid (Kevlar, Twaron) is a fiber similar to the polyamides, but is much stronger. It is 5 to 8 times stronger than steel (at the same weight). There is virtually no stretch. These synthetic fibers cannot withstand tight curves and knots, the tensile force then decreases. Usually used as the core of a braided rope with e.g. a polyester sheath.
Dyneema
Dyneema is one of the super fibers. It is made of polyethylene (High module polyethylene HMP), but no longer resembles that. It is extremely strong, up to 15 times stronger than steel (with the same weight of material). Dyneema is light, floats on water and is water resistant.