Helmets outdoor sports
A helmet is crucial for canyoners, cavers and also at Via Ferrata. The most important thing is, of course, that the helmet protects you against the impact of falling objects and against bumps, in addition, it must fit well and you also want it to be comfortable and not weigh too much. With caving you also want to be able to properly attach your headlamp. The helmets in our range are specifically suitable for outdoor sports such as canyoning and caving and are therefore not the same as bicycle helmets. We do have helmets for children that are suitable for these outdoor sports as well as for cycling.
See the instructions below for the correct use of your canyon helmet or caving helmet.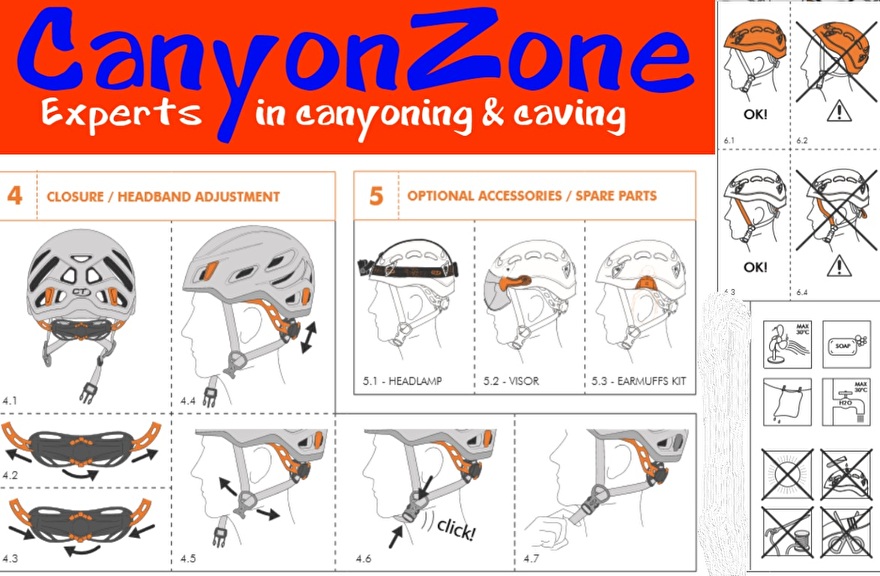 Black Diamond Half Dome

BLACK DIAMOND HALF DOME 2019 The Half Dome has long been a staple for climbers worldwide. Now redesigned, the helmet features a new lower profile suspension system with a one-handed dial combined with streamlined headlamp clips…

€ 57,95 € 49,95

Black Diamond Half Dome Womens

BLACK DIAMOND HALF DOME WOMENS The tried-and-true construction of our classic Half Dome helmet, now with a women's-specific design and improved design benefits.

DESCRIPTION

The Half Dome has long been a staple for climbers…

€ 57,95 € 49,95

Camp Rockstar

CAMP ROCK STAR This versatile and affordable helmet is perfect for beginners and for large groups in a society. In three different colors available at CanyonZone.com: Blue, Red and Orange. The white version is not included by…

€ 44,95

CT Eclipse

The Climbing Technology (CT) Eclipse is a multipurpose helmet for women and children designed for mountaineering, climbing, via ferrate and adventure parks.

Main characteristics:

∙ close-fitting form designed for smaller heads…

€ 52,90

CT Galaxy

The Climbing Technology (CT) Galaxy is a all-round mountaineering helmet, recommended for ice climbing, sport climbing and via ferrata.

Main characteristics:

∙ ergonomic shell design;
∙ lightweight, comfortable and excellent…

€ 52,90

CT Venus Plus

The Climbing Technology (CT) Venus Plus is a multipurpose helmet designed for use in adventure parks, canyoning, via ferrata and climbing courses.

Main characteristics:

∙ wraparound shell with a reduced size;
∙ lightweight,…

€ 49,95

Edelrid Ultralight

EDELRID ULTRALIGHT Highlights:

∙ Various colors in stock
∙ Universal size (54-60cm)
∙ Robust 10 standard traps
∙ Classic adjustment system
∙ Headlamp mounting
∙ Weight: 435 g

The Ultralight helmet is the classic…

€ 51,00 € 49,95

Edelrid Zodiac helmet

EDELRID ZODIAC HELMET Lightweight and extremely stable hybrid helmet. Perfect for canyoning, caving and via ferratas.

∙ Robust and impact-resistant injection-moulded ABS shell
∙ Expanded polystyrene foam inner shell for…

€ 54,95 € 49,95

Kask Helmet Plasma AQ

KASK HELMET PLASMA AQ Kask helmets Safety are comfortable and equipped with ventilation holes for work at height and rescue, but also suitable for canyoning and caving. Further, the helmet includes clip for the attachment of head…

€ 71,95 € 67,95

Petzl Borea

PETZL BOREA Durable and versatile helmet with enhanced protection, for women

Designed for women, the BOREA is a durable, versatile helmet suitable for canyoning, caving, via ferrata, climbing, mountaineering... The design, the…

€ 55,00 € 49,75

Petzl Boreo Caving

PETZL BOREO CAVING Caving helmet with mounting plates for DUO headlamp

The BOREO CAVING helmet is composed of a BOREO helmet equipped with front and rear plates for mounting a headlamp. The caver has the choice to opt for a DUO S…

€ 85,00 € 79,95

Petzl Boreo

PETZL BOREO NEW Durable and versatile helmet with reinforced protection for canyoning, caving, climbing and mountaineering

Durable and very versatile, the BOREO helmet is suitable for climbing, mountaineering, caving, via…

€ 55,00 € 49,75

Petzl Elia

PETZL ELIA Elia Petzl is a climbing helmet specifically to the needs of women developed.

Thus, the Elia has OMEGA headband. This ensures that the helmet on and easy to take off and become worn the helmet with great comfort. Elia…

€ 60,45 € 48,95

Petzl Sirocco - White

PETZL SIROCCO 2018 Ultra-lightweight climbing and mountain climbing helmet with reinforced protection.The SIROCCO has been designed to meet the needs of climbers and mountaineers for less weight and protection. The main…

€ 115,00 € 103,95

Petzl Sirocco - Black

PETZL SIROCCO MODEL BLACK Ultra-lightweight climbing and mountaineering helmet with reinforced protection

The SIROCCO is designed to respond to the needs of climbers and mountaineers for reduced weight and for protection. Its…

€ 115,00 € 103,95

Petzl Vertex Vent

PETZL VERTEX VENT This helmet Petzl has a textile lining with six attachment points that the fit is good, the main closely encloses and provides the user with additional comfort.
∙ CenterFit control system ceases to operate the…

€ 83,49 € 79,98

Petzl Vertex Vent Hi Viz

PETZL VERTEX VENT HI VIZ This helmet Petzl has a textile lining with six attachment points that the fit is good, the main closely encloses and provides the user with additional comfort.

∙ CenterFit control system ceases to…

€ 81,07 € 79,95

36% discount

WRSI Current Helmet - BLUE L/XL

WRSI CURRENT HELMET - BLUE L/XL Constructed with high-quality materials and advanced technologies, the WRSI Current Helmet is anything but basic. Combined with a plush inner lining, it can't be beat in safety or comfort.

∙ A…

€ 109,95 € 69,95

Edelrid Kids Shield II Green

EDELRID KIDS SHIELD II Edelrids popular softshell helmet with a stylish design perfect for children and teenagers.
The little outdoor sports enthusiasts such as canyoneers, cavers, via ferrata practitioners, climbers and small…

€ 60,00 € 55,95

Kask Super Plasma PL White

KASK SUPER PLASMA PL WHITE The ideal helmet for canyoneers. Light, comfortable and tune of 51 to 63 cm head circumference. Comfortable to wear and always a cool head by ten ventilation openings. Weighs only 380 grams. This helmet…

€ 79,95 € 74,95

Petzl Meteor Red

PETZL METEOR RED Lightweight helmet with enhanced protection for climbing, mountaineering, and ski touring

Are you passionate about climbing, mountaineering, or ski touring? The METEOR helmet offers efficient protection for these…

€ 84,95 € 79,95

Petzl Meteor Grey

PETZL METEOR GREY Lightweight helmet with enhanced protection for climbing, mountaineering, and ski touring.Are you passionate about climbing, mountaineering, or ski touring? The METEOR helmet offers efficient protection for these…

€ 84,95 € 79,95