What is the difference between a climbing harness, canyoning harness, caving harness, seat harness, hip harness and integral harness?
Due to the immense range of belts on offer, it can be difficult to make a choice which belt is most suitable for you. CanyonZone provides a number of handles to make the choice easier. Our advice is to fit your seat belt and hang it in just as well. Just like a pair of shoes fit. Without fitting, sitting in and hanging, you don't know how comfortable the belt is and whether it fits your physique. Choosing a belt from a picture is not a good option. We are happy to offer this option in our showroom.
The first thing you should ask yourself before looking for a seat belt is the activity(s) you want to do with the seat belt. If you have this clear, it is easier to determine which belt meets your needs.
The size of the harness / harness is essential because your safety depends on it. It must be a perfect fit. You should check that the belt does not slip off the hips if you end up hanging upside down. You also have to take into account the physical differences between men, women and children. In addition to safety, you need the right size to provide the necessary comfort.
N.B. The difference between a harness and a belt is the difference in work positioning and fall protection. A seat belt is smaller and suitable for work positioning. A harness is used for fall protection, which, depending on the type, can also be very suitable for work positioning.
Below is a classification of the belts followed by a number of concepts and points of attention.
Parts of a climbing harness
To understand which climbing harness is most suitable for which activity, you need to know which parts a climbing harness consists of. This allows you to familiarize yourself with the terms that are used to describe certain types of climbing harnesses.
hip belt; The hip belt can have a comfortable or light padding or a mix of both depending on what you will be using the climbing harness most for.
hip belt; This is the belt that you put on and feed through the buckles. In the climbing harness in the example, the hip belt is loose in the hip belt and you only see a buckle with which you tighten the climbing harness. This allows you to center the belay loop nicely, despite the lack of two buckles. Other climbing harnesses have two buckles or are simply available in several sizes to ensure that you can also center the belay loop nicely.
leg loops; The same applies to the leg loops as to the hip belt with regard to the padding. Leg loops often have a buckle with which you can adjust them, but the lightweight climbing harnesses have omitted this to make them even lighter.
One of the main benefits of leg loops, in addition to their comfort, is that they prevent chafing that can lead to discomfort or injury. It is also easier to change clothes, which is very important when you take into account the different weather conditions that can occur during a climb.
material loops; Depending on where you are going to climb, this can be two or four. Often for climbing in a climbing gym you don't need more than two, but as soon as you start climbing outside you quickly need four.
Binding loops and belay loop; Binding can be done in two ways. Indirectly via the belay loop by means of, for example, the Belaymaster or directly by making a tucked back eight knot via the binding loops.
Other fastening loops; Loops can hang at the back of your climbing harness for, for example, your puff bag or, if you climb outside, a second rope. In addition, extra openings have been made on some climbing harnesses to easily accommodate a material carabiner such as the Petzl Caritool.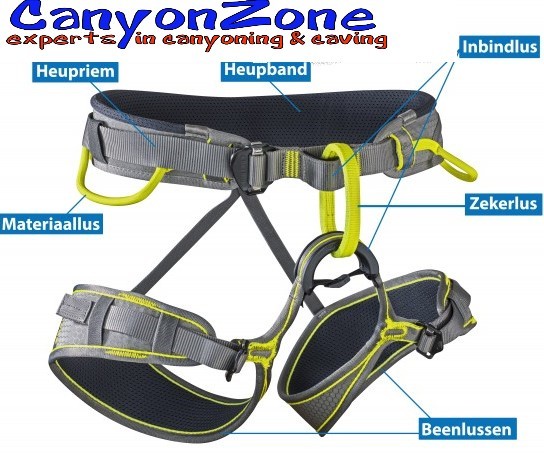 Seat belt layout
A climbing harness or belt for short is used in climbing and abseiling to create a stable attachment point to the human body.
There are various types of climbing harnesses. Now that you are familiar with the different parts, we will zoom in on the differences between the types of climbing harnesses.
Seat belt / Hip belt
The most commonly used and most famous of all climbing harnesses is the seat belt or lap belt. You come across this type of climbing harness in almost every form of climbing. From via ferrata to mountaineering. A seat belt allows complete freedom of movement and offers enough space to store all your equipment. In a seat belt, the hip belt ensures a good distribution of the pressure so that you can sit comfortably in it. The comfort differs per climbing harness, but also a bit of personal preference and in general you can assume that a more expensive climbing harness offers more comfort than the cheapest climbing harnesses. Seat belts or lap belts are further subdivided into different types depending on the application.
Sports climbing harness
A sports climbing harness is the all-round variant of the seat belts or hip belts. You can easily recognize these by the ease with which you can put them on and take them off. They usually have two to four material loops and a thin belay loop. The leg loops are minimally adjustable with some sports climbing harnesses because you don't have to adjust them much in the climbing hall. With other sports climbing harnesses, you have fully adjustable leg loops, so you can easily adjust them outside if you wear several layers of clothing.
Multipitch/Big Wall climbing harness
Multipitch or Big Wall climbing harnesses are climbing harnesses that are intended to be worn very comfortably all day long. People often hang in the climbing harness for a long time and for this you need thick padding in the hip belt and the leg loops. You can often see this directly on the climbing harness. The weight of these climbing harnesses is also generally higher. These climbing harnesses almost always have an extra loop at the back for hoisting an extra rope and have at least four material loops.
Ice climbing harness
A climbing harness specifically for ice climbing is characterized by extra loops to attach material carabiners like the Petzl Caritool. You can then store your ice screws here. These climbing harnesses are otherwise almost identical to sports climbing harnesses.
Alpine climbing harness
A climbing harness specifically for mountaineering or ski touring has hardly any padding in the hip belt and leg loops. This is done to save weight and to give the climbing harness a very small packing volume. This means that the climbing harness does not get in the way while walking. In fact, if you have a good alpine climbing harness you will hardly feel that you are wearing it. In addition, you can often open the climbing harness completely so that you can easily put it on when you are fully equipped with crampons and a thick jacket.
The alpine climbing harness has up to four material loops to keep out of the way when carrying a backpack and also has a thin belay loop for further weight savings.
Via ferrata climbing harness
These are often the most minimal climbing harnesses you can find. There is little or no padding in the hip belt and leg loops, because you only hang in the climbing harness if you fall and not really. This climbing harness often only has one or two material loops and the belay loop is horizontal instead of vertical. This is also the type of climbing harness that is used in Adventure Parcs and is suitable for group use.
Women's climbing harness
A women's climbing harness can be any of the previous types of climbing harnesses, but specifically tailored to a woman's body. The ratio between the hip belt and leg loops is slightly different than that of men. The shape of the hip belt and the leg loops is also adapted to a woman's body.
Canyoning Seat Belts / Harness
Canyoning is pretty tough for the equipment. Many canyons involve rock-hopping, swimming, sliding down rocks and logs, and bush-bashing, so you'll need a harness that's up to the task.
This is where a special canyoning belt is perfect. Canyoning hip belts have replaceable seat-seat protectors (Spanck Protects) designed to withstand the many rocks you encounter, so they will protect your wetsuit from damage and that large seat protector is much more comfortable than those thin leg loops on a climbing harness.
If you are an avid canyoner, a standard canyoning belt such as the Rock Empire Canyon, Edelrid Irupu or Petzl Canyon Club Harness is a good choice. On the other hand, if you can't get enough of canyoning and hit the road every weekend, the Petzl Canyon Guide harness is the goldel for you.
If you're an avid abseiler or caver it's likely you'll have a fairly robust harness that will suffice, but leg loops will be the first to wear out and fail.
Caving harness
Caving harnesses come as two separate parts, a sit harness and a chest harness, and must be used together.
Hip seat belts are lightweight, durable and simple. They meet in the middle using a D-shaped maillon that holds all your SRT gear, and crucially, the chest jammer close to your center of gravity meaning you're in the most efficient position to climb a rope . The Petzl Superavanti and the Petzl Fractio are highly adjustable and come in two sizes so will fit all cavers, with the fractio having an extra waistband for lower back support but keeping the chest jammer/chest ascender in a slightly less efficient position.
Caving Hip seat belts should never be used for climbing. The low attachment point (maillon) means that you are more likely to end up upside down in the event of a fall and in this situation increases the risk of the belt coming loose because it is not around the narrowest part of your waist. If you're only using a ladder and lifeline (i.e. no SRT), it's wise to go for a simple alpine-style climbing harness instead.
Your lap seat belt must be combined with a chest belt. These are usually not designed to be worn and come in a few different styles. They all sit over your shoulders and loop through the top hole in the Petzl roll. This allows the croll to move up the rope while standing upright in your foot loop. They are all highly adjustable - useful for different caving sizes and to adjust between loose (generally bimbling in the cave) and tight (going back up the rope).
Chest harness
Chest harnesse / straps are designed to be used in conjunction with a seat belt or lap belt. You often connect these with each other by means of a sling. The addition of a chest strap can be especially useful if you are traveling with a heavy backpack or if you have very narrow hips. The chest strap ensures that your center of gravity is higher, so you are less likely to fall upside down if you are carrying a heavy backpack.
Integral harness
An integral harness / belt is actually nothing more than a chest and lap belt in one. Two extra straps run over the shoulders. Especially alpinists and small children benefit from this type of belt because the straps prevent the person from falling out of the belt under all circumstances. You spend a little more time putting on and taking off, but you can easily hang upright in this. In addition, the integral harness also makes it easier to keep upright when wearing a heavy backpack in this type of climbing harness. The weight of an integral belt is more than that of a lap or seat belt and the size is also less compact.
Child harneass / belt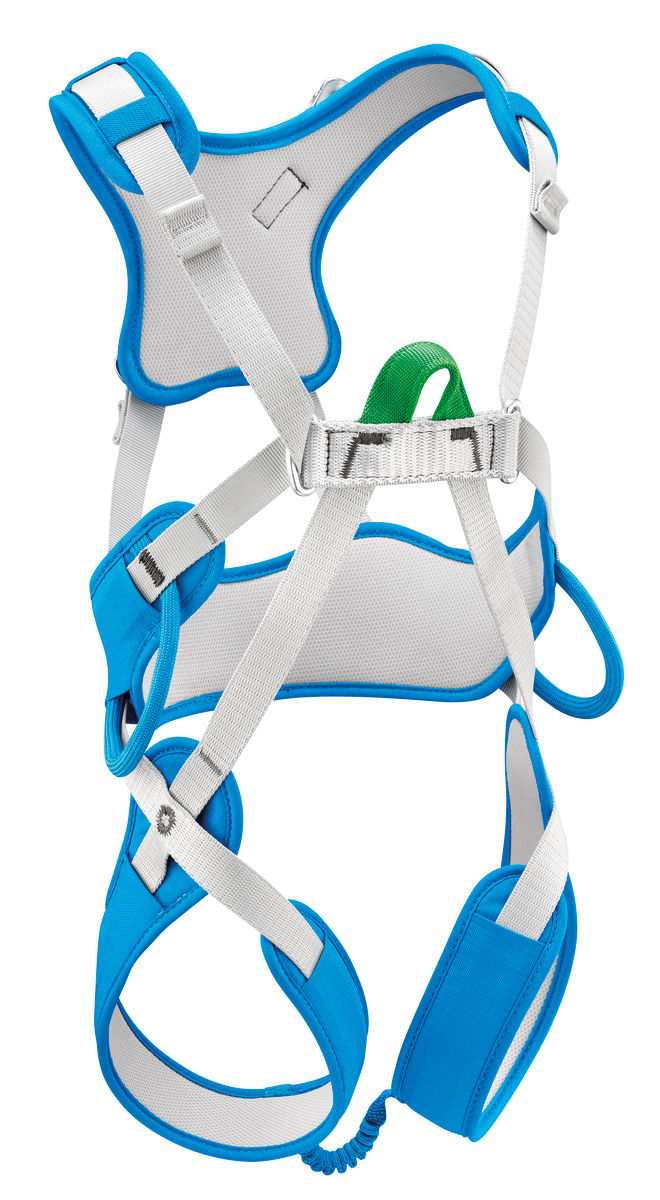 Because younger children have a different build than adults and the balance is not always as developed as in adults, children's climbing harnesses are almost always integral harnesses. The age of the child doesn't really say much, it mainly concerns the size of the waist and thighs. The weight specifications allow a weight of up to 40 kg. Therefore, always check the weight of your child and the specifications of the climbing harness.
As soon as children have a better sense of balance, broaden their hips slightly and they can easily stay upright on their own in a seat belt or hip belt, you can switch to this type of climbing harness. If you are still in doubt, you can always go for the combination of chest belt and seat or hip belt. Handy because the climbing harness can, as it were, 'grow' with your child. Ultimately, the child will also fit the smallest sizes of the sports climbing harnesses for adults.
Much taken from: https://www.klimwinkel.nl/keuzehulp/gordels-klimschoenen/keuzehulp-hoe-kies-je-de-beste-klimgordel
What is the difference between a climbing harness for men and women?
Although some models can be designed for both men and women, it is advisable to buy a product that offers the necessary features for each gender. For example, in women, the center of gravity is lower and they need to balance the harness to feel more comfortable and secure.
Also, women are generally narrower and use the belts on the hips, so you need to estimate the distance between the belt and the legs. In short, as with the purchase of climbing shoes for example, we must look for specific models for men and women, as well as for children.
Important to know
Women, men or children, due to their different anatomies, must acquire models adapted to their characteristics.
The climbing harness must meet the safety regulations, which are usually certified on the label. We will see this in the chapter "What should you look for when buying?", as well as specifications about the correct belt sizes.
How do I put on my climbing harness?
Attaching a climbing harness is not very complicated. However, it must be carried out with great care, because your safety and comfort depend on a correct working method. In short, these are the most important steps that must be followed to put on a climbing harness:
Insert your legs into the leg loops making sure they are not crossed and the belay loop is in front.
Place the belt over your hips, almost at navel level, to avoid slipping in the event of a tumble. Tighten the belt.
Adjust the leg loops using an elastic part in case they are not adjustable. The tighter they are, the more comfortable you feel hanging, although it will reduce your freedom of movement.
How should I maintain and clean my climbing harness?
The first thing to do is to read the manual to know which parts the climbing harness consists of. Before each use, you should look at every detail to make sure every part works and is in good condition, as over time some elements can wear out and compromise your physical integrity.
If you climb a lot, it is important to regularly check your climbing harness for any cracks or wear. You can tell from a climbing harness whether it is starting to age due to discoloration or fraying parts. Some climbing harnesses have an indicator that shows you when it is time to retire the harness. In general, you can throw away any climbing harness after more or less seven years, even if it has been used very little.
As for cleaning, we can soak the belt in hand water for two hours with a neutral soap and use a brush in case the stains are stubborn. Then rinse the belt with water and let it dry in a ventilated place, without exposure to the sun. After cleaning, it is necessary to pay attention to the fact that all elements work correctly. The use of a washing machine is also an option, see Information about rope: choice and maintenance
What should you pay attention to when purchasing?
With the basics in mind, the next step when buying a seat belt is to consider certain purchasing criteria. In order to find the belt that suits you best, it is essential to consider certain aspects. Below are the most important factors to help you choose the climbing harness you need:

Use
Size
leg loops
Material loops
Safety regulations

You should choose your seat belt according to the activity you are going to do.
Use
Climbing can be done on different terrains and under different circumstances. That is why you should choose a climbing harness that adapts to the characteristics of the style you want to practice. Remember that safety is very important with climbing harnesses, which is why they are manufactured to fulfill different functions depending on the use they will be exposed to by the climber.
For the artificial walls, more comfortable and practical climbing harnesses are used, while for the sporty style, lighter models are usually used that do not hinder the ascent. Traditional climbers should prioritize comfort and space. For use on ice you need special screw holders and adjustable leg loops.
With the climbing harness, more activities can be performed than just mountain climbing.
Size
The size of the climbing harness is essential as your safety depends on it. It must be a perfect fit. You should check that the belt does not slip off the hips if you end up hanging upside down. You also have to take into account the physical differences between men, women and children.
In addition to safety, you need the right size to provide the necessary comfort. For example, you can spend many hours hanging in the climbing harness, such as in high mountains. On the other hand, it is better to avoid injuries or discomfort that can cause too small a size.
Leg loops
Another element to consider when purchasing a climbing harness is the leg loops, although they are not as important as other parts such as the waist belt, belay loop or attachment points. The leg loops can be fixed or adjustable. The former are the most common, although their elasticity allows them to be used for all kinds of activities.
One of the main benefits of leg loops, in addition to their comfort, is that they prevent chafing that can lead to discomfort or injury. It is also easier to change clothes, which is very important when you take into account the different weather conditions that can occur during a climb.
Material loops

Material loops are placed on the belt of the climbing harness, which are usually used in outdoor modalities. It is common to have a minimum of 4 material loops to move all the material you will need during the ascent, although the number can vary depending on each climber's needs.
It is important that you make sure that all parts work properly.
Safety regulations
Climbing or mountaineering harnesses must comply with the safety regulations UNE-EN 12277. To ensure that the chosen product falls within the standards of national and international bodies, you must verify this on the label. This regulation divides climbing harnesses into four categories:
Type A: Integral harness. For people who are quite heavy, have a very high center of gravity or are in bad shape.
Type B: Integral harness. For users weighing less than 40 kg. Mostly used for children.
Type C: Hip belt. It must have the right characteristics for any style of climbing or mountaineering practice.
Type D: Chest strap. Usually used in rope progression activities where it is necessary to use a ventral blocker. They should always be used in conjunction with the Type C harness.
Resume
The belt is a product subject to certain safety regulations. This means that you will find its main features on all models on the market, although you should always read the label carefully before buying one. When using this device, it is always necessary to observe all safety precautions. You should also always check the belt/harness before each use.
Finally, when evaluating the best belts / harnesses, you should pay attention to other aspects, such as the comfort or the use you will give them. The first point is very important, because you will spend several hours in a belt in different conditions. You should also look at the right size and whether the model is for women, men or children.
Largely taken from https://www.fitforbeach.nl/klimgordel/#Wat_is_een_klimgordel_precies
and http://www.upandunder.co.uk/Outdoor/Caving/Harnesses/
Overview Knowledge base General canyoning and caving equipment : Go back