Newsletter No. 1, March 2018 (EN)


What happened and is coming

up

Newsletter No. 1, March 2018 (EN)
Web technology to transmit only in one language.
There is no Dutch version.
Read on or click to go to the topic:
Content:
We have moved from the west to the east of the Netherlands,
to the city Zutphen where we have set up the shop there
The store in The Hague is permanently closed.
Again new articles included in the assortment
New products
(For the detailed description go to the websites using the name)
A lot of new products came in store for canyoning and caving, to much to describe them all. In the section new products you can see and read about a couple of these new items. The HOT ITEMS that just came in are:
from 2 April 2018 new name shop:

CanyonZone
findable on domain names

CanyonZone.nl & CanyonZone.com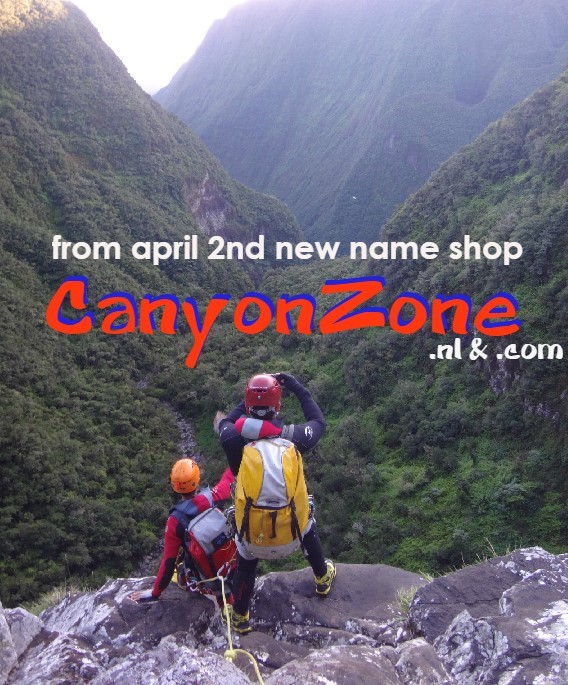 Present at the following events:
Do you want make a reservation for one or more products, so you do not pay any shipping costs? Send an email to info@canyonstore.nl, so we can take the products on one of the events with us for you.
11 march - NCB Technique trainingday in Venlo (NL)
13-19 march Azores (P), testing new gear
24 march workshop anchor bolting in Arnhem (NL)
14-15 april National Meeting Dutch Caving Association in Diessen (NL)
20-22 april Speleo Rallye Basiliek in Brussel (B)
3-6 may Ticino (CH) rebolting canyons
19-20 may Grooveweekend Villers-le-Gambon (B)
17-20 june OUTDOOR Friedrichshafen (D)
14 - 28 july Holiday in Haute-Savoie (F)

Consider longer delivery times in the above mentioned periods, order on time
Next Newsletter - mid april 2018
(remarks / comments or suggestions are welcome)
What can you do to make us more known
Check the website for all the items you need and send this newsletter to your friends.
For more fun and interesting news visit our Facebook page
To Ask? phone: +31 (0)6 2023 7357 Email: info@canyonstore.nl
You are receiving this mail because you have entered your email address please when placing an order or because you have indicated that you wish to receive our newsletter.
You can reach us at the following addres:
Magazijn / Warehouse & Winkel / Shop
Maria Rutgersstraat 49
7207 GX Zutphen
Our partnersites:
www.base-camp.nl - nederlandsecanyoningbond.nl
Wilt u geen nieuwsbrief meer ontvangen?
© 2013 - 2018 CanyonStore nl: the shop for your canyoning and caving equipment | typefouten en prijswijzigingen voorbehouden